Bank of Canada moves forward with interest rate increase
Date Posted: July 11, 2018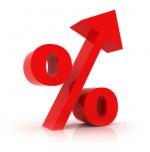 Although the threat of the trade war between Canada and the United States continues, the Bank of Canada has opted to move forward with the much anticipated benchmark interest rate increase today. The central bank has increased the key interest rate from 1.25%, which has been held since January 2018, to 1.50%. This is the fourth increase since last June.
"Higher interest rates will be warranted to keep inflation near target and [the bank] will continue to take a gradual approach, guided by incoming data," the bank said in a statement accompanying the rate decision.
Many economists expect three or four more rate increases by the end of 2019, keeping the Bank of Canada in step with the pace of rate hikes by the U.S. Federal Reserve. At 1.5 per cent, the benchmark rate is still well below the estimated "neutral" level of 2.5 to 3.5 per cent – the point where rates neither heat up the economy nor put the brakes on growth.
Although it is too soon to confirm prime interest rate increases, which move parallel to the benchmark rate, the lending community will most likely follow suit in the very near future.
For the Globe and Mail article click here.