Home sales inch higher in June, but average prices still down 1.3% in past year
Date Posted: July 17, 2018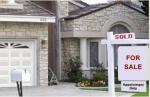 The June stats have been released by the Canadian Real Estate Association (CREA) and although home sales increased in June, the national average selling price was still somewhat lower than June 2017. For the first time since the stress test was implemented in January 2018, home sales increased from month to month with 4.1% more homes sold compared to May. Although the increase was seen from May to June, the level of home sales across the country decreased by 11% year over year marking the lowest level in 5 years.
In terms of home prices, the national average of a home sold in June was $496,000 which is also down slightly from the previous year, while the average home in Ontario was $564,720. However, CREA notes that this average isn't necessarily the most accurate picture because the data is skewed by more active cities and certain types of housing. Accoring to the Housing Price Indicator (HPI), which CREA uses as a better feel for the overall market to strip out the volatility, home prices have increased by 0.9% in the past year.
"Prices were down in many large cities, including Toronto, Edmonton, Regina, Saskatoon and Calgary, but the pace of decline is starting to slow. And in other cities, such as Vancouver, Ottawa and Montreal, prices are increasing."
More from the CBC article here.